Outrigger pads are used to provide effective support for heavy equipment where load-bearing capacity is an issue, such as soft ground or sensitive terrain. Outrigger Pads use UHMW materials which are lighter and longer-lasting than plywood or steel, stand up to harsh weather, and severe conditions to shield you and your equipment from costly accidents.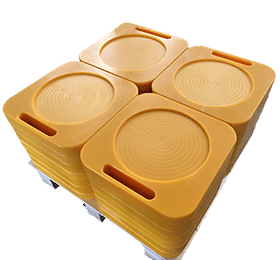 Whether the colors, thickness, or size, our team can meet your needs. In-house tests with state-of-the-art equipment guarantee both the performance and lifetime. We manufacture outrigger pads​ in compliance with industrial standards.
Designed for Your Application
Outrigger Pads Custom Options
Material
UHMWPE-Virgin grade
UHMWPE-Reprocessed 
UV Stabilized
Anti Static
Color
Natural (white)
Green
Blue
Grey
Black
Brown
Other colours are available upon request.
Square Pads Dimensions
400*400*40mm
500*500*40mm
500*500*50mm
500*500*60mm
600*600*40mm
600*600*50mm
The dimensions are customizable.
Round Pads Dimensions
650*50mm
800*50mm
800*40mm
800*60mm
900*40mm
900*50mm
The dimensions are customizable.